What Is an Authorized Agency?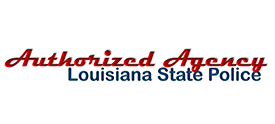 FOR THE PURPOSES OF THIS PART:
(1) "Authorized agency" means a private entity authorized by the office of state police to conduct the criminal history checks provided for in this Part. Nothing herein shall be construed as expanding the access to confidential law enforcement records of the state of Louisiana or its political subdivisions or authorizing access by said agency to the computerized records of law enforcement agencies.
Global Data Fusion is proud to be a Louisiana State Police Authorized Agency providing criminal history checks for companies who employ non licensed persons and ambulance personnel.
Since 2013, we have provided this invaluable service to the following:
As a best practice, Global Data Fusion always recommends to its clients to utilize not only the recommended provisions laid out in R.S. 40:1203.1 et sec, but also to accompany this information with a Nationwide search for criminal convictions.
For More Information about services, cost and turnaround times call us at 337.205.3007 or fill out our simple form.